Jim Reger - Biography
Biography | Topics | Client List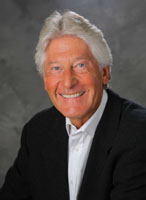 Jim Reger's passion and commitment for facilitating powerful and effective change in individuals and organizations is evident in his work, which is focused on assisting leaders in creating and building authentic lives and cultures in their organizations, families and communities. Jim is an internationally experienced speaker and leadership mentor with a unique and varied background- including over 25 years in the information industry, both in senior executive positions with large multinationals as well as a number of technology start-ups. He was General Manager of Hewlett-Packard Canada Ltd., and President of MDI Mobile Data International, which became one of the largest and most successful technology companies in Canada.
Jim is the founder of The Reger Group and Global Learning Opportunities Ltd., which are learning and entrepreneurial development organizations focused on providing the key leadership skills required for success in business and in life.
Across North America and Australia thousands of business owners and executives have attended Jim's inspiring and thought-provoking presentations on The Authentic Leader; Successful Succession Planning; and A Higher Purpose - Living a Life of Meaning and Significance. In addition, more than 2,000 individuals have graduated from The Reger Group's extensive entrepreneurial development programs for start-up businesses.
The Reger Group is a family business and Jim and his daughter Natasha work extensively with business families addressing the special challenges they face as they move through their life cycles and struggle with the unique effects that family dynamics have on their businesses and their lives. As certified facilitators they assist families in improving their interpersonal communication skills and establishing effective family council meetings.

Peer Mentorship Groups
Jim has designed, developed and delivered train-the-trainer programs for:
The Young Entrepreneurs Association of Canada (YEA)

The Canadian Association of Family Enterprise (CAFE)

Centre for Family Business (CFFB)
(a family business centre associated with the University of Waterloo)
Volunteer Service
As an active community volunteer Jim was:
Volunteer of the Year for the Greater Vancouver YMCA

President of the David Foster Foundation
(providing financial and emotional support to families of children who require organ transplants)

Director of the Canadian Association of Family Enterprise (CAFE)
Authorship
Jim has authored and co-authored these books:
Future Work (1998)

The Authentic Leader (2006) co-written with David Irvine (best selling author of three leadership books)

A Higher Purpose – Living a Life of Meaning and Significance
(due to be released in the spring of 2007)
Personal
Jim has two grown children, Natasha and Brayden, and he lives with his wife Joan, on the beach in Victoria, British Columbia, Canada.