Accountable Parenting:
Raising Accountable Young People
By: David Irvine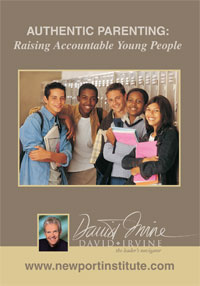 Accountability – the ability to be counted on – is a core trait needed for young people to meet the challenge of living – and thriving – in their world. Because you are not born with it, it must be relentlessly fostered in one's upbringing. David's twenty-five years of experience as a family therapist, youth leader, best-selling author, leadership consultant, and parent have given him important insights for raising responsible, resourceful and resilient children. After fifteen years of teaching leaders in organizations how to foster accountability in the workplace, David has returned to his roots: accountability in the home, for this is where accountability ultimately begins. His approach to leadership in the home goes beyond the concepts of leniency versus strictness to the substantive issues of guiding children to be self-confident, trustworthy, and respectful of themselves and others.


David's down-to-earth approach will help you:
Balance supports, demands, and strong character.
Take fear and blame out of your home and replace them with ownership and trust.
Teach your children self-discipline.
Empower young people to unleash their full potential.
Replace consumerism with citizenship and a commitment to contribute.
Deal with rights, responsibilities and contribution.
Find and express your authentic voice as a parent – your most vital resource.
This inspirational and thought-provoking DVD will give you fresh inspiration, insight and practical tools to strengthen your competence in life's most challenging and important leadership responsibility: parenting.
$21.95 plus taxes and shipping and handling | Order Form
Note:For bulk orders please contact us at 250-475-2225 or email us at info@newportinstutute.com