Accountability:
Getting a Grip on Results
By: Bruce Klatt, Shaun Murphy and David Irvine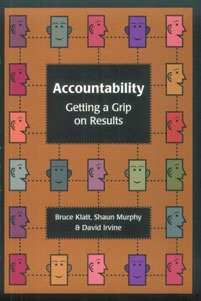 Accountability is essential to the running of every efficient organization, showing that to operate from a position of accountability is to recognize that each individual stands at the centre of a circle of influence and should be willing to extend its boundaries in pursuit of results.
Providing practical solutions to the accountability crises currently affecting many organizations, the authors have succeeded in supplying not only a template for achieving agreements, but the inspiration to do so. Accountability is more than doing one's best, it is a force for empowerment for all managers or leaders who are keen to raise the goals set for their workforce.
$21.95 plus taxes and shipping and handling | Order Form
Note:For bulk orders please contact us at 250-475-2225 or email us at info@newportinstutute.com